On Thursday, February 4th, 2016, a special Pinwheel event took place during Eating Disorders Awareness Week to address the interplay between our brain, body and beliefs. Body image is perhaps the least understood and most complex of the issues the society experiences. The repetition of negative messages and experiences over time about our bodies can become internalized and influence not only our self-perception and self-talk, but about the body itself.  Listeners learned strategies that they could use so we could all learn how to love our bodies and love ourselves!
LISTEN TO THE RECORDING HERE:   keltymentalhealth.ca/sites/default/files/pinwheel_education_series-_how_to_loblo.mp3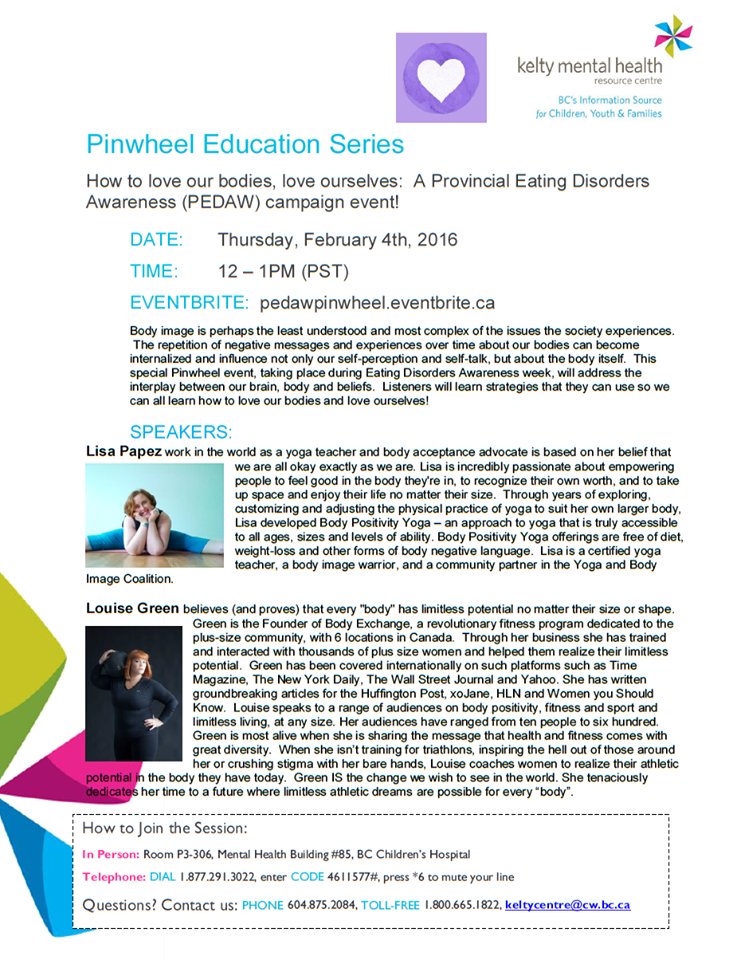 SPEAKERS:
Lisa Papez work in the world as a yoga teacher and body acceptance advocate is based on her belief that we are all okay exactly as we are.
Lisa is incredibly passionate about empowering people to feel good in the body they're in, to recognize their own worth, and to take up space and enjoy their life no matter their size. Through years of exploring, customizing and adjusting the physical practice of yoga to suit her own larger body, Lisa developed Body Positivity Yoga – an approach to yoga that is truly accessible to all ages, sizes and levels of ability. Body Positivity Yoga offerings are free of diet, weight-loss and other forms of body negative language. Lisa is a certified yoga teacher, a body image warrior, and a community partner in the Yoga and Body Image Coalition.
For more information about Lisa, visit:
www.fatyogini.com
www.facebook.com/fatyogini
@fatyogini
Louise Green believes (and proves) that every "body" has limitless potential no matter their size or shape.
Green is the Founder of Body Exchange, a revolutionary fitness program dedicated to the plus-size community, with 6 locations in Canada. Through her business she has trained and interacted with thousands of plus size women and helped them realize their limitless potential. Green has been covered internationally on such platforms such as Time Magazine, The New York Daily, The Wall Street Journal and Yahoo. She has written groundbreaking articles for the Huffington Post, xoJane, HLN and Women you Should Know. Louise speaks to a range of audiences on body positivity, fitness and sport and limitless living, at any size. Her audiences have ranged from ten people to six hundred. Green is most alive when she is sharing the message that health and fitness comes with great diversity. When she isn't training for triathlons, inspiring the hell out of those around her or crushing stigma with her bare hands, Louise coaches women to realize their athletic potential in the body they have today. Green IS the change we wish to see in the world. She tenaciously dedicates her time to a future where limitless athletic dreams are possible for every "body".
For more information about Louise, visit:
bodyexchange.ca
www.facebook.com/thebodyexchangevancouver
@BodyExchange
ABOUT THE PINWHEEL SERIES:
The Pinwheel Series are a group of free, all inclusive monthly education events open to anyone in BC. The aim is to provide learning opportunities for the public on key mental health and healthy living topics, and host a forum where people can engage in dialogue with experts and persons with lived experience.